Heaven's Guidebook
to Homemaking
A Look at Our Future,
Helps Our Home Today
God gives wonderful promises of what His home will be like, a home that is in heaven now but will someday be on earth. Characteristics of our Father's home are an amazingly relevant guide for our own homes today. A focus on heaven provides help that is down to earth. Contrary to popular belief, being more heavenly minded can help us be more earthly good. This women's devotional is not about keeping house but about making a home. In our culture today many precious qualities have fallen through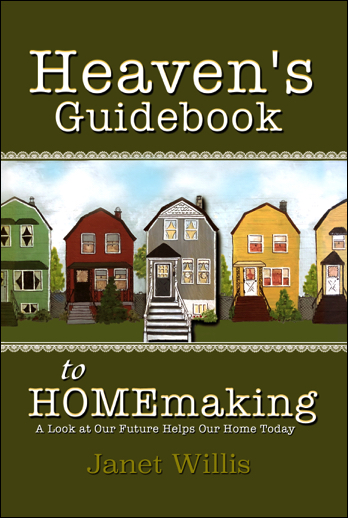 the cracks. We don't have to be a victim of our past. And we don't have to be a hostage of our culture. God, through His Word gives us balance. Focusing on each of these prophecies helps us grasp the lovingkindness of God, His understanding of our deepest needs. He already knows all about you, and hopefully you will get to know Him better. That is the key that unlocks potential for real change.