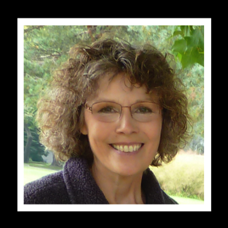 Janet is grateful to God for the blessing of loving parents and an idyllic American childhood.  When she was just a young girl she learned about Jesus, but it was when she was a high schooler that she read the gospel tract and fully trusted in Christ as her Savior.  After she married her husband Scott and became the mother of three children, God moved in their lives and hearts in a powerful way.  Scott accepted the Lord and they both began to grow as Christians serving their local church.  Two years later, they went off to Bible College where they received valuable training in God's Word.
By 1994, God had graciously given Scott and Janet six more children and Scott was pastoring a church in the city of Chicago.  Their oldest three were married and had given them five grandchildren.  Janet was busy homeschooling the youngest six.  In November of that year, Janet and Scott were traveling with their youngest six when they had an accident beyond any mother's worst nightmare.
  Their van hit a piece of debris causing the gas tank to explode.
All six of their youngest children died as a result. Scott and Janet's inital response to that trial drew
the attention of the national media giving them the opportunity  to testify of God's grace.
Throughout the years since the accident, Scott and Janet have shared with others the lessons they have learned out of their first hand experience of adversity.  Janet is grateful for the privilege of being a mother, grandmother, pastor's wife, and teacher both of preschool and homeschool.  She has also had the opportunity to develop and use her love of art in serving the Lord.  She has written and illustrated two books.  The first was A Dad's Delight, a children's picture book relating a true story about her family pointing to God's great mercy.  The second was What on Earth Is Heaven Like?  It is a careful look at what the Bible reveals about the New Jerusalem, the future home of all believers.